Harborside Aviation, Inc, a professional flight school, provides a wide variety of services to the general aviation community. Services include aircraft rental, a pilot shop, simulator and flight training for the Private pilot, Instrument, Commercial, multi engine, Flight instructor, multi instructor and Instrument Instructor Ratings. We also offer recurrent training and flight reviews.
Harborside Aviation is a "Knowledge Testing Center"
for all FAA Exams from sport pilot to ATP and also all
aircraft mechanic exams.
Harborside Aviation is located at the Charlotte County Airport in Southwest Florida, about 3 miles SE of Punta Gorda.
Please let us hear from you.

Harborside Aviation, Inc.
28000 Airport Road A-10
Punta Gorda, FL 33982
Phone: 941-639-0057
Fax: 941-639-0054
Email: harborsideav@embarqmail.com
Call: 1-800-872-2672 and mention
code M1409XRHA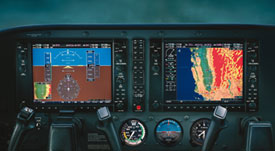 Harborside Aviation features a Skyhawk equipped with the Garmin G1000 which includes WAAS and Synthetic Vision!
Charlotte County Airport
Runway 04-22 7200 x 150 feet
Runway 15-33 4,743 x 150 feet
Runway 09-27 2,600 x 60 feet
Lighted Runway
Overnight Tie-downs Available
Rental Cars and Taxis Available
No Landing Fee!